The world is waiting for Alibaba to hit Wall Street this summer as its IPO will likely be bigger than Facebook's. That means China's ecommerce market matters more than ever. New figures out today show that spending on China's ecommerce sites keeps growing, hitting a grand total of RMB 446.44 billion (US$74.03 billion) in Q1 2014 – which is up 27.6 percent on the same time a year ago.
China's ecommerce spending for 2014 as a whole looks set to top $300 billion.
Here's the chart showing the rise in online shopping and spending in China in the past two years: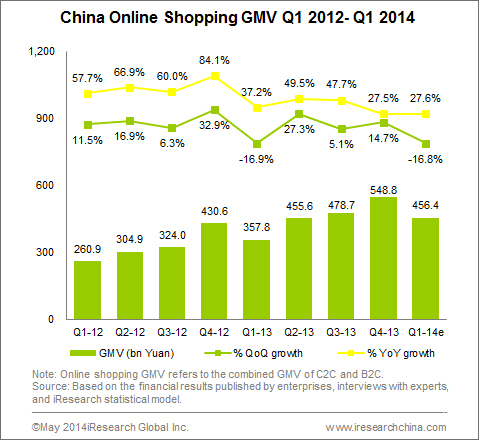 Alibaba's growing domination
The numbers from Beijing-based iResearch have more good news for Alibaba. The company's Tmall site, which serves as a virtual storefront for larger merchants and major brands, grew to 50.6 percent market share in the business-to-consumer (B2C) ecommerce sector. Alibaba rival JD (formerly called 360Buy) remains a strong second with 23.3 percent share, while everyone else scraps over the lower single digits, including Amazon China with a fairly static 2.1 percent share of the pie.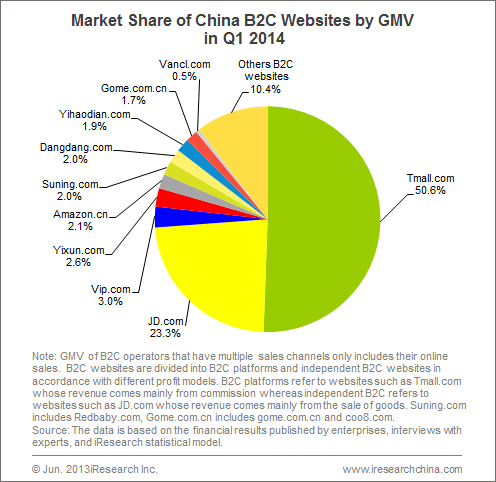 See: These numbers from Asia's half-trillion dollar ecommerce market will blow your mind – INFOGRAPHIC
Decline of person-to-person selling
China's online shopping habits are gradually shifting towards sites such as Tmall, JD, and Amazon China, and away from the person-to-person selling that's categorized as C2C (consumer-to-consumer) ecommerce. Alibaba also dominates the C2C sector with its Taobao site. While China's shoppers are gradually shifting away from buying from their peers on sites such as Taobao, Alibaba can take heart in the fact that it also dominates the B2C area with Tmall.
JD is also prepping its IPO, which might happen as soon as this week. While it's the perennial also-ran to Tmall, investors might be encouraged by the fact that more of China's web shoppers are shifting towards this kind of ecommerce site.
The iResearch statistics for Q1 2014 show that B2C sites now make up 39.9 percent of the ecommerce market in China, compared to just 24.6 percent two years ago. Factors such as speedier delivery, easier product returns, and concerns about fake items are helping nudge people towards B2C sites. Here's the shift in progress: